Improbable Cause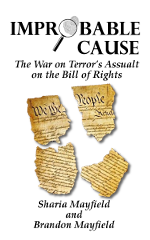 Sharia Mayfield and Brandon Mayfield

Nonfiction, Civil Rights, Constitutional Law
Paperback ISBN 10: 1-938888-12-X | ISBN 13: 978-1-938888-12-0


Paperback ($14.95): Barnes & Noble, The Book Depository (free shipping), Amazon


To purchase the paperback directly from Divertir Publishing:


Download a sample copy (PDF format)
---
Hello, this is your attorney Brandon. As you know, I was arrested in connection with the Madrid Spain bombing and therefore may be tied up in jail for a little while as I hang out for a grand jury to convene. I can assure you I will do my upmost to continue to zealously represent you here in jail, but unfortunately I may not be able to take your calls, appear on your behalf in court, do legal research, or meet with you in person except behind glass after being subjected to a full cavity search. Oh yea, don't worry about me voluntarily revealing any of your most confidential information and any secrets you may have shared with me in the course of our legal relationship. The government has already gone over all our notes and files with a fine tooth comb, so there's probably little more I could share that they have not already discovered.
Brandon Mayfield, a Portland resident and Muslim lawyer, is unexpectedly arrested on May 6, 2004, in connection to the March 11 Madrid train bombings that took the lives of nearly 200 people. Despite having an expired passport, no ties to Spain, and evidence that he was in Oregon on the day of the attack, Brandon is detained for weeks without charge. In a gripping true account of one of the U.S. government's biggest blunders in the "War on Terror," the Mayfields invite you into the secretive world of espionage, faulty forensics, and wrongful accusations.
Note: A portion of the proceeds for this book will be donated to the Oregon Innocence Project.